D

epartment introduction
/
各部門の紹介
Manufacturing Department  ▶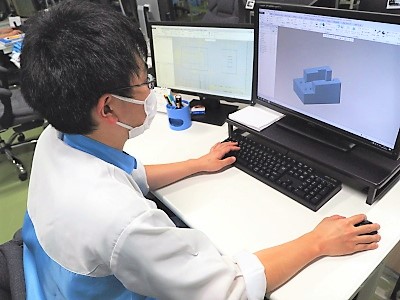 01
DESIGN SECTION
Designing machines which need to assemble connectors for our customers.
We have been producing plastic molded products more than 40 years since FB founded in 1975.
Our knowledge and experience, which helps us improving connector quality. These will be satisfied with our customers.

02
ASSEMBLY AND TRIAL PRODUCTIONS SECTION
We do from a few finishing touches to the assembly of the equipment.
Assembly・・・We complete the assembly based on the plans. To finish the parts which are manufactured with a high-precision is necessary for the great skills. We create various kinds of equipment by assembling them.
Trial productions・・・We produce and evaluate prototype connectors here. Making best effort so that our customers will be satisfied with our products.
Both of them need high knowledge and techniques, but nothing could please us more than produce the great connector.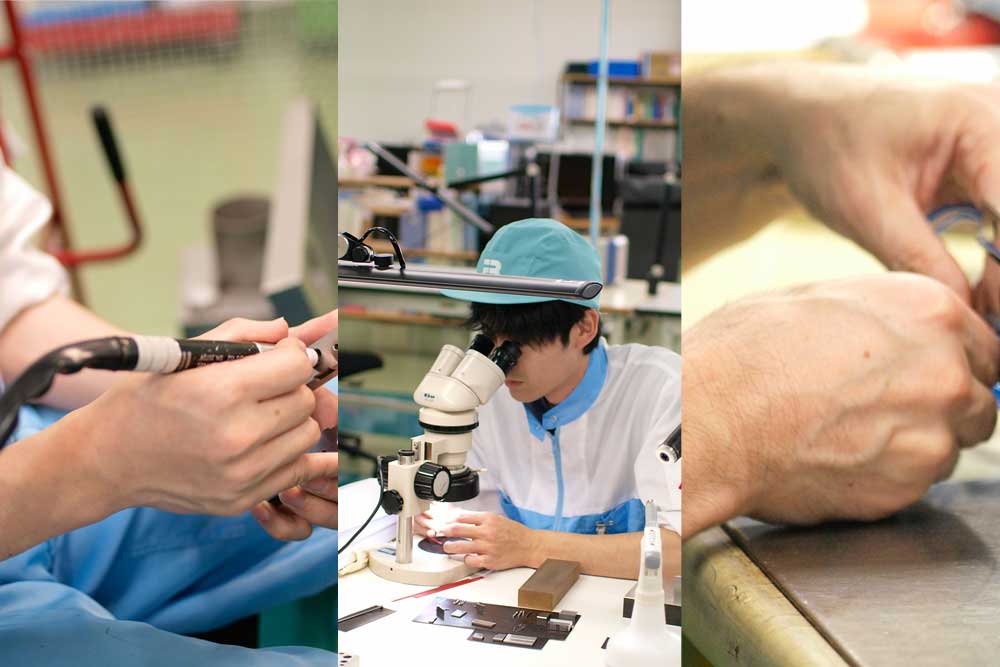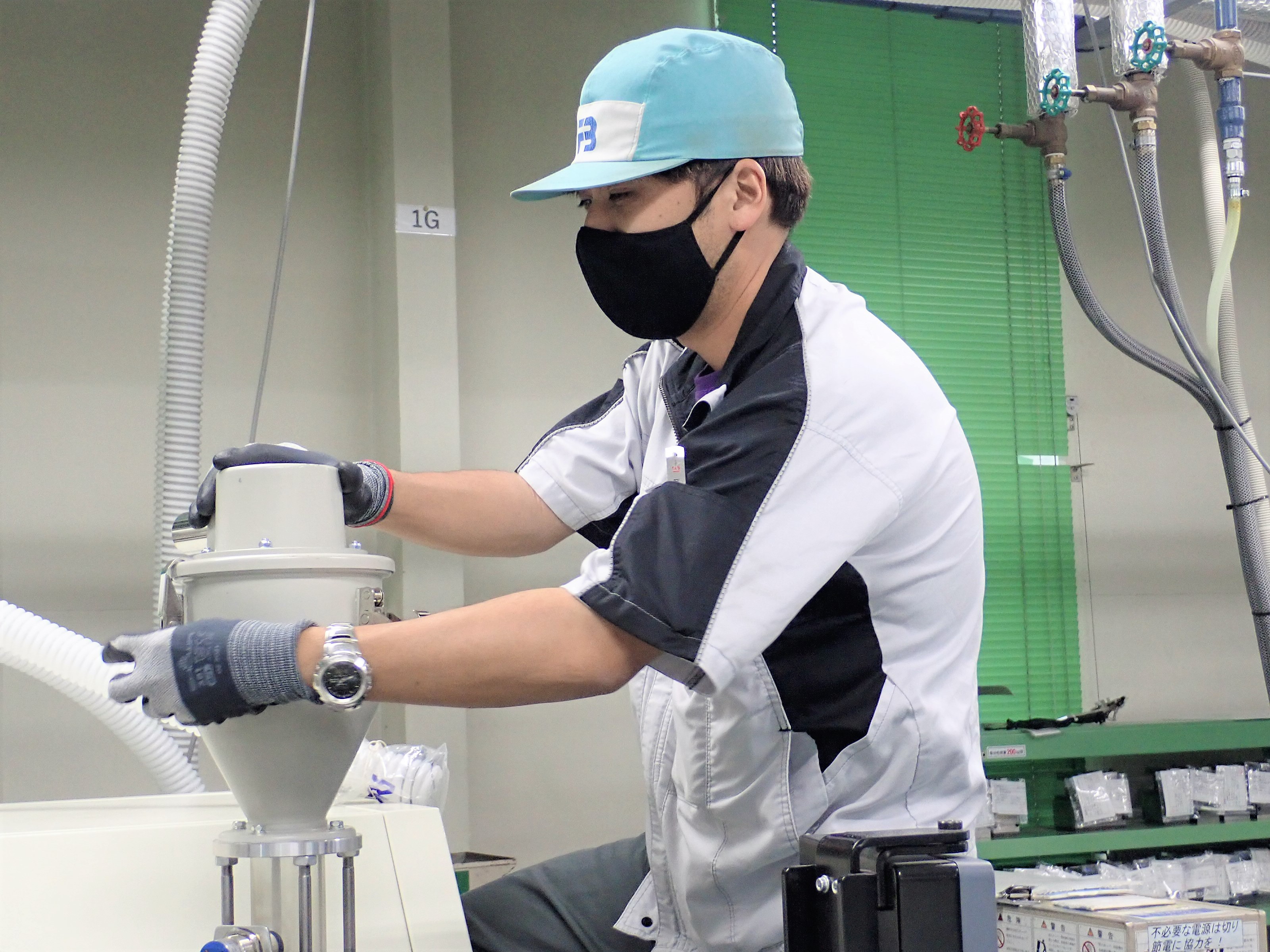 03
INJECTION MOLDING SECTION
We have processes which are checking mold's conditions, setting injection molding machines up and doing mass-productions.
Through this processes, we are making an effort every day to provide customers good products which meet their needs and undersell the other companies.
We have more than 50 qualified employees who have injection molding operation.
They polish their skills and aim at the improvement the accuracy of the mass-productions.

04
PRESS SECTION

The press process is manufacturing by applying pressure to the metal plates. Using the dies and press machines, we produce the metallic parts called "terminal" which is important for the connectors.
To be realized minute products with various skills like shearing, bending, forming, it's necessary for our sensitivity not only the accuracy of the dies and press machines.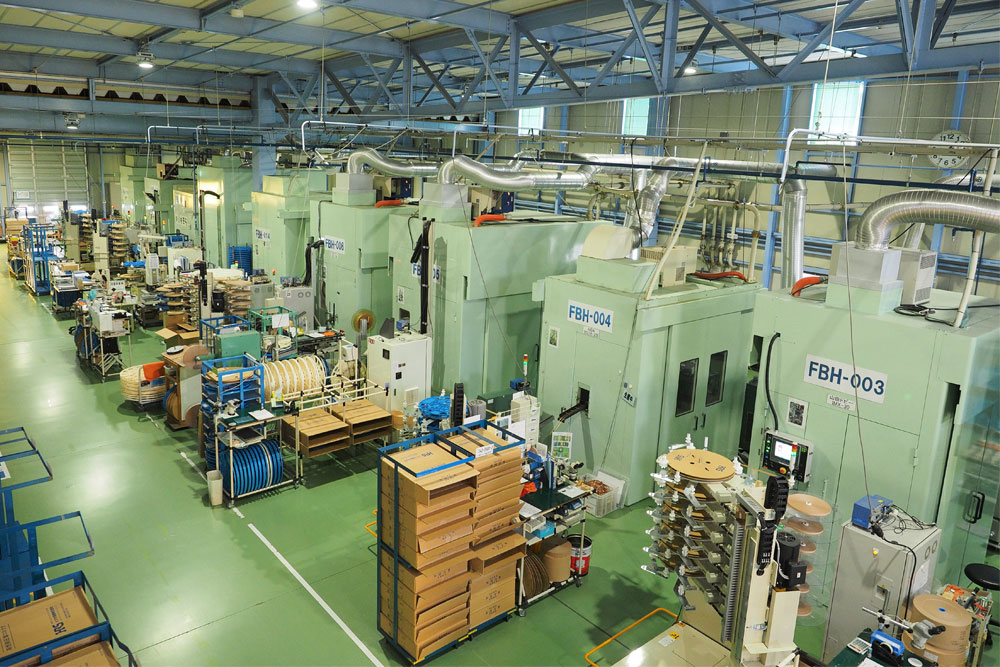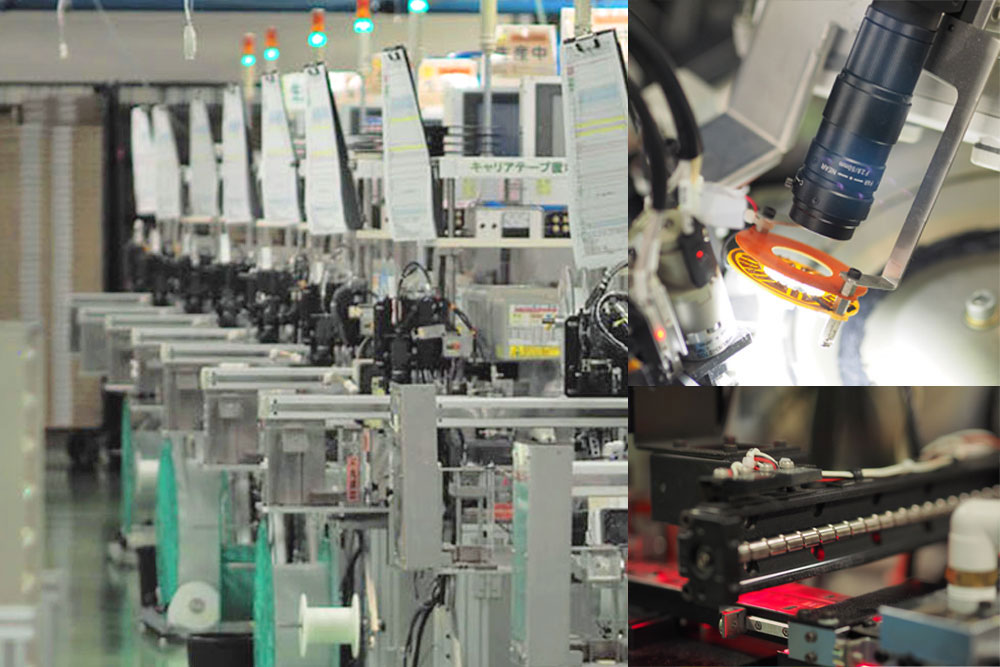 05
CONNECTOR ASSEMBLIES
The connector assemblies is that last process of the producing connectors.

The idea of Quality first is our base, we do maintenance and check machines and the connecters are inspected from the sensors. Also, checking for producing them with usual conditions based on the data from sensors. Furthermore, they go on with the plan which can produce products cheaper more than now.

06
PRODUCTION CONTROL SECTION
Three types of functions here.
1.Production Planning ・・・we recognize the condition of the producing process to share the information with the operators and make the best production schedules. And then, give each processes the manufacturing indications. The products are controlled by using barcode system and will be shipped according to the date of delivery. These are applied of IT and the connecters which are produced are possible to trace.
2.Place and accept orders・・・we order and do the receiving inspection for the materials and the manufactured goods. After that, we carry them to each processes.
3.General affairs・・・In this section, we digitize the information from each processes to use for the improvement and control daily sales or the producing numbers.

Production engineering department  ▶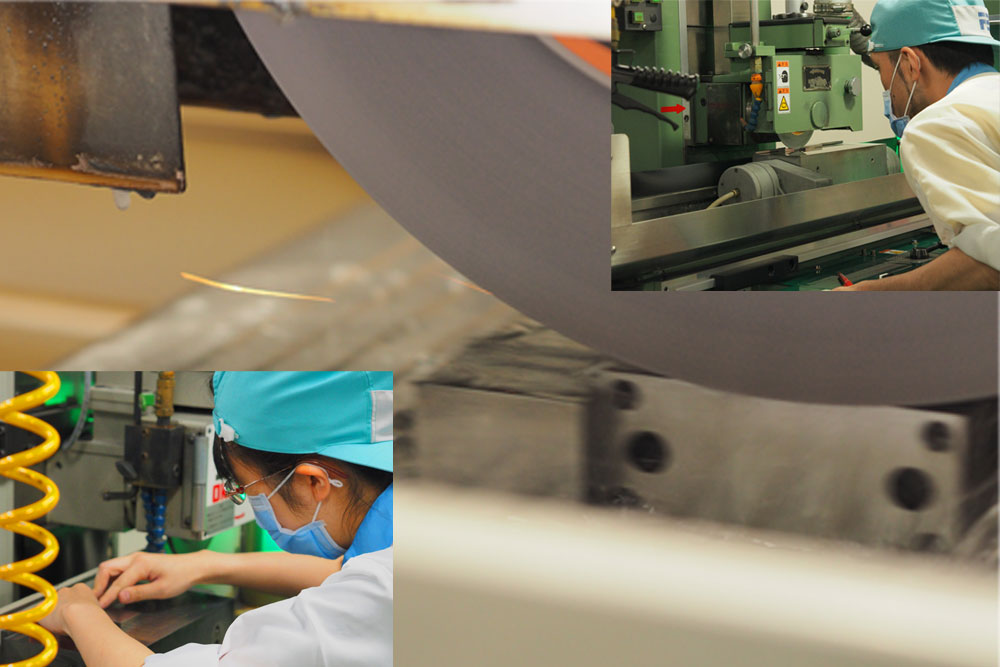 01
MACHINING SECTION
Producing molds by dies and molds and assembly machines that we use. We have various kinds of machines.
For example, grinding machines, electric discharge machines, Wire-electric discharge machines, Machining center and Jig grinding machines.
The high precision dies that we do has a different structure from other companies, we try to improve our skills every day.

02
Iwaizumi factory
We have "Iwaizumi factory" which is in Iwaizumi Town that is about 40km north of Yamada town and known for its Ryusendo cave.
This factory has only machining section and do the same work as machining section in the head office.
There are various kinds of machines in Iwaizumi factory which is small-hole electric discharge machines and electric furnace in addition to grinder wire, electric discharge machines and machining center that we have in head office.
In the manufacturing room, we control the temperature all the time and we are trying to decrease the margin of errors which influenced by the change of temperature even if using the measuring microscopes and coordinate measuring machines.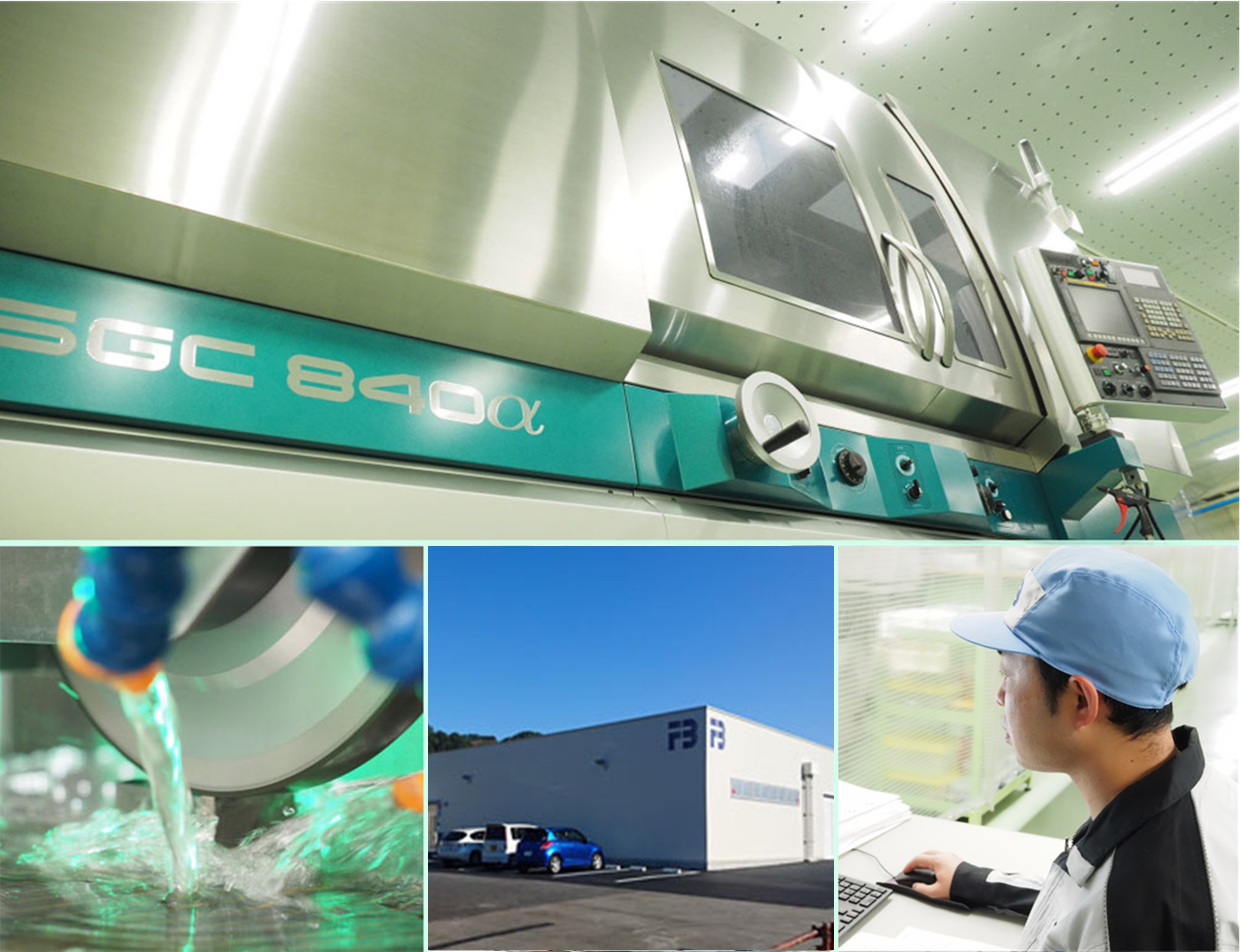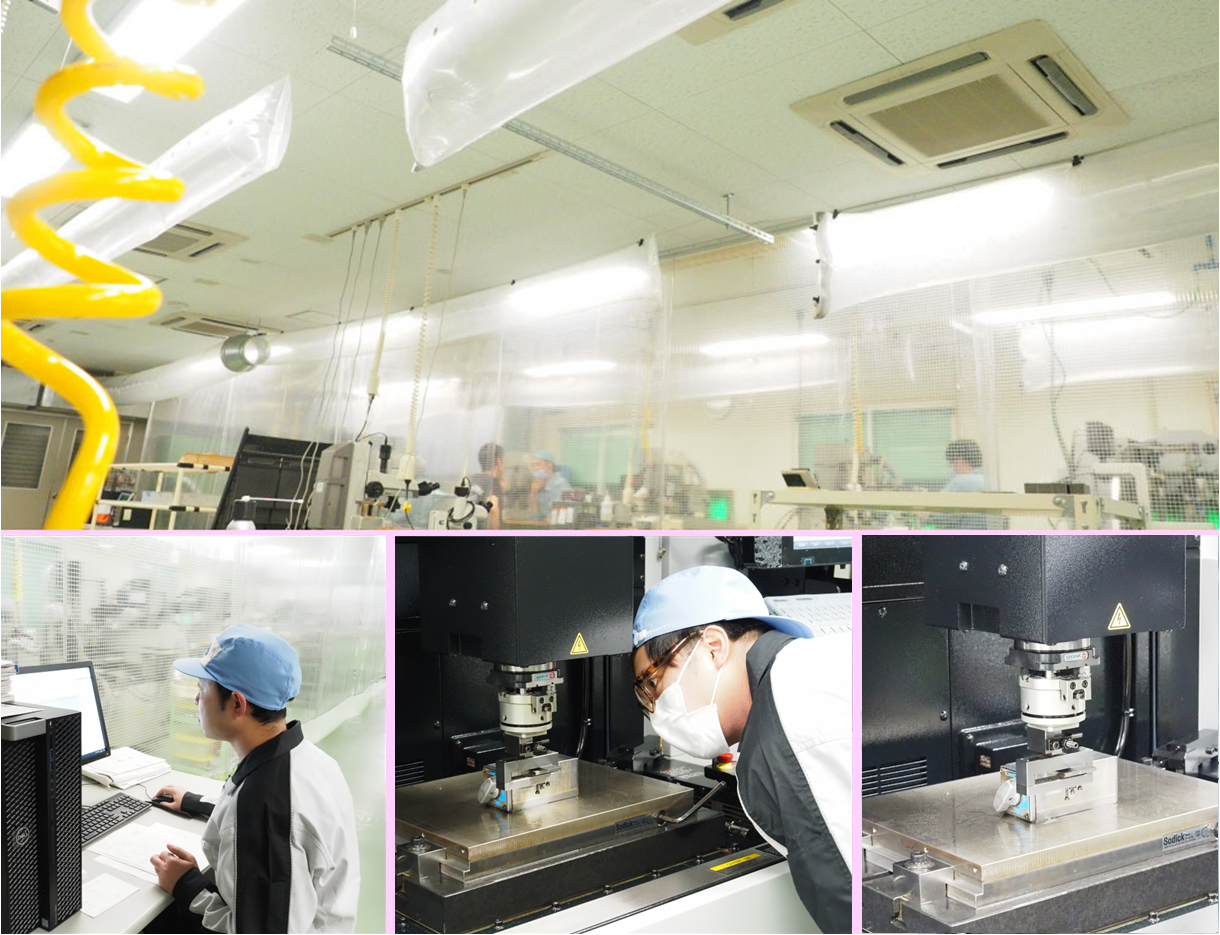 The things what particular about in Iwaizumi factory
The thermostatic air-conditioner nad the dust catcher system The temperature in the machining room introduce to 2 levels of control system that are 23℃±1.0℃ and 23℃±0.5℃.
It can be stabilize in the machining environment by giving off the heats and feeding new wind.
Also we introduce the system that the dust from grinding the metals are collected and filtering the air.
We offer the environment that we can produce the products with less variations in the post-process and high added value and the operators can display their real abilities.

QUALITY ASSURANCE
We train up and educate employees so that our customers will be satisfied with our products.
And making better workplace environment is our job. That makes us keep producing good products. It's also important task to use voice of the customer for producing products better more than now.
Moreover, we analyze and investigate into the cause of some troubles, find a solution, review and construct the systems. Furthermore, we control and facilitate our network system. Enhance the quality of person and business to produce products which are the best quality. That is the work of this section.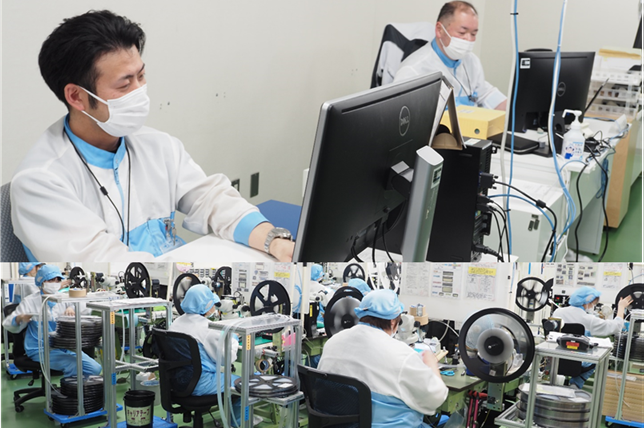 administrative Department  ▶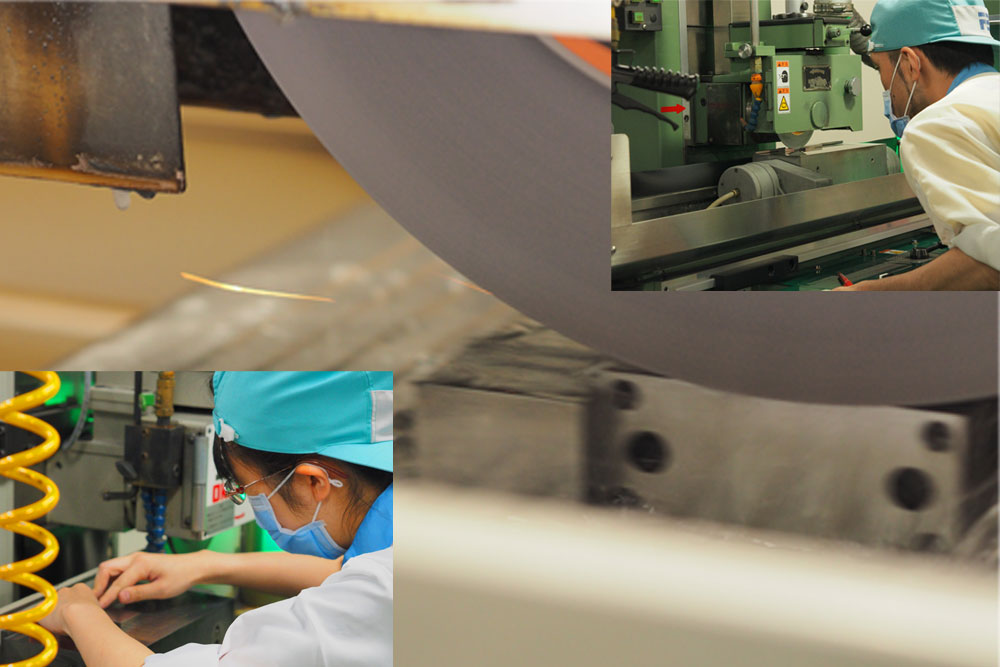 01
General Affairs Department
In general affairs, I am mainly responsible for the following tasks.
Statute... Grasping and disseminating information on laws and regulations, customer requirements, etc.
Revision of work rules and various regulations.
Energy conservation... Grasp the amount of electricity and gas used and promote energy-saving activities.
Waste Management... Arrangement for industrial waste collection, transportation and disposal of business-related waste.
System... In-house system maintenance, website creation and update.
Facilities Management... In-house equipment inventory, repair and maintenance. Company car management.
In addition, we also provide health management, welfare, and environmental beautification.

02
Accounting Department
Accounting is broadly divided into four functions.
Accounting... Management of cash and accounts, management of sales slips and purchase slips, settlement of expenses, etc.
Management of the company's money. Asset management, settlement of accounts.
Cost control... 1. Performance management: Aggregation of sales, purchasing, and expenses, and management of business performance
2. Creation of quotations and quotations and management of the underlying data
Purchasing... Procurement of parts, materials, and consumables and management of suppliers
Environmental Management... Procurement of Environmental Materials and Environmental Measure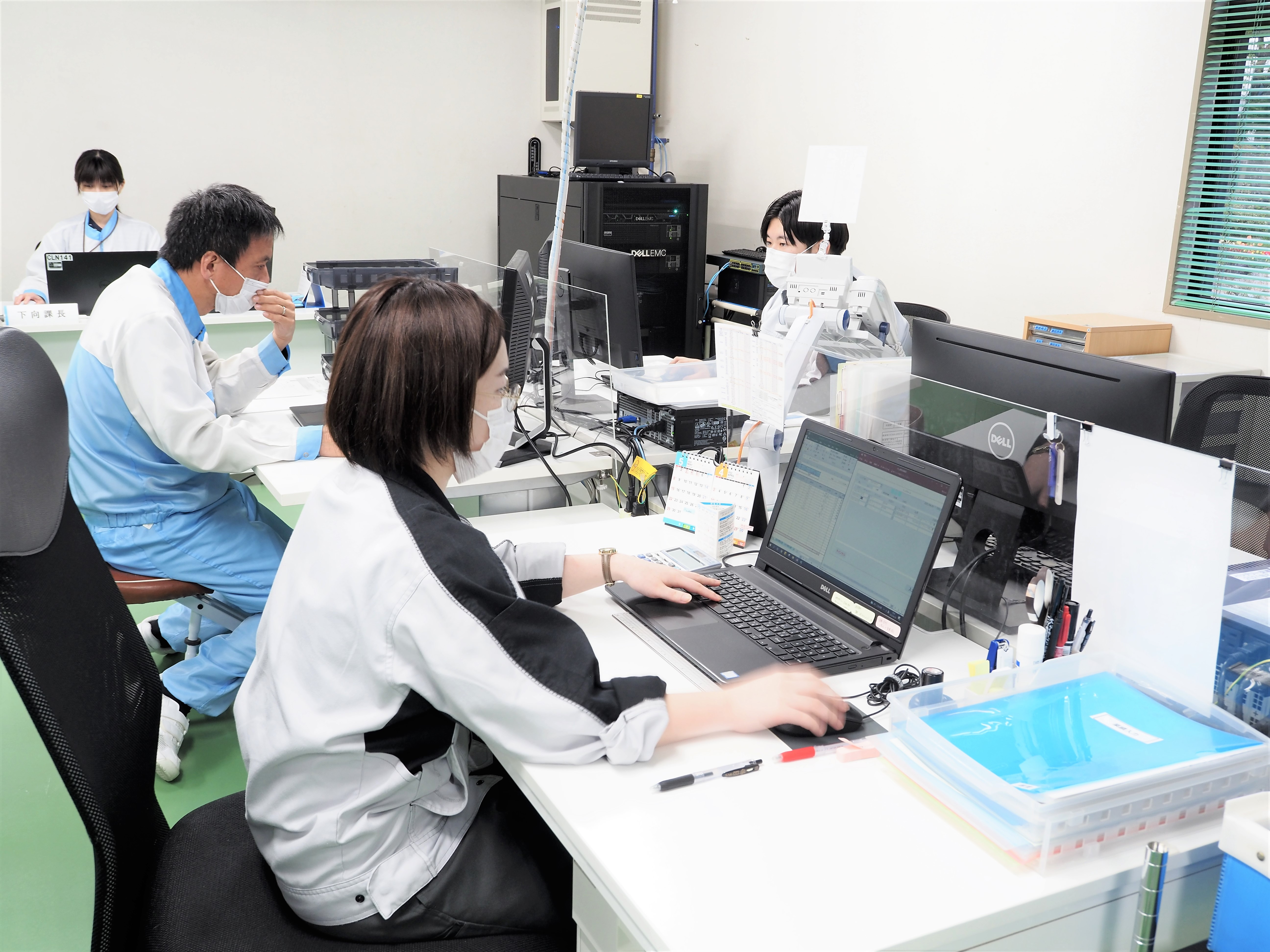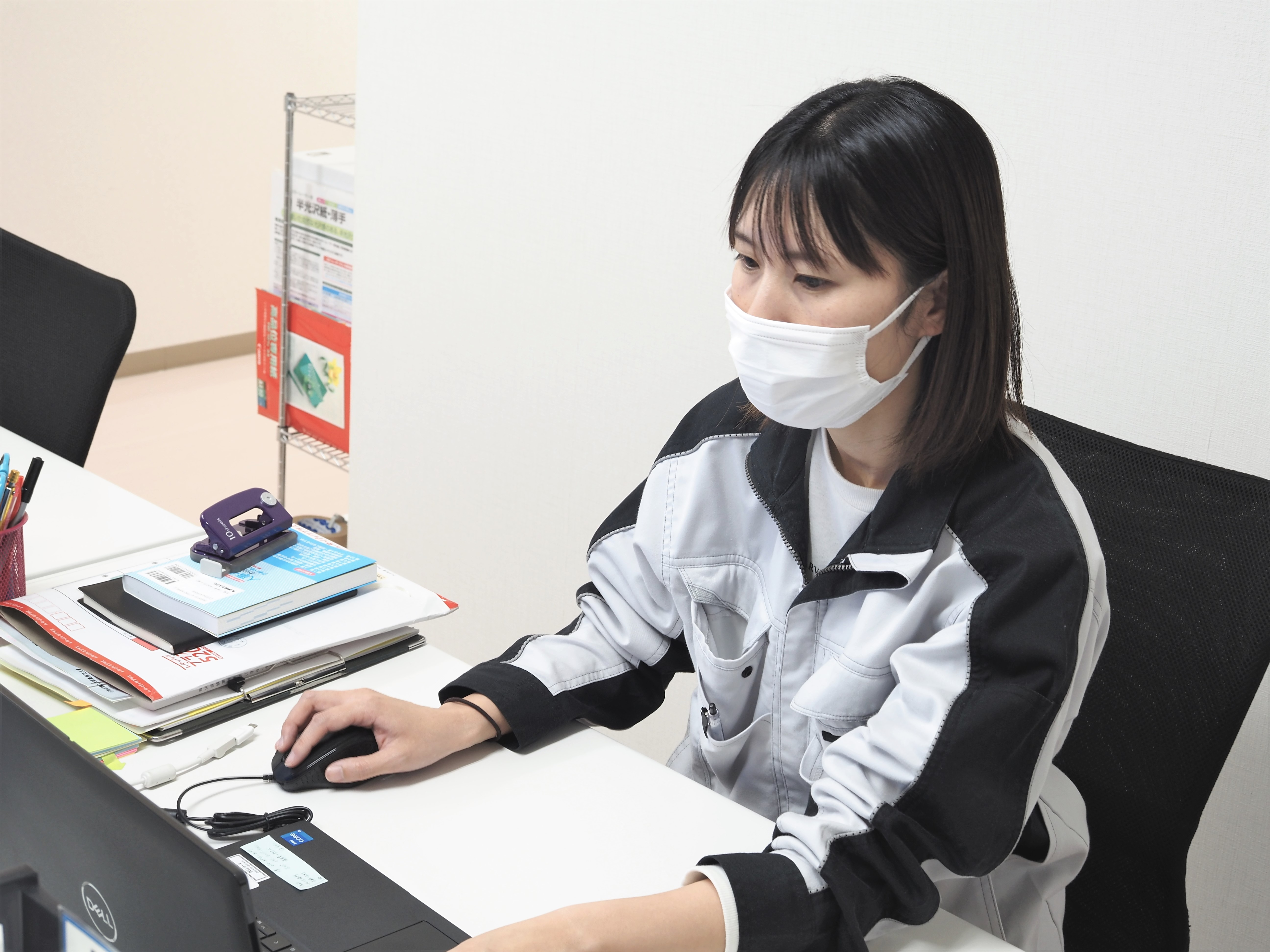 03
Personnel Department

In the area of human resources, we support activities related to the career development of employees, such as recruitment planning, recruitment activities, education and training, correspondence courses, etc. to secure a labor force, employee working hours and payroll calculations, various insurance procedures, as well as an internal consultation desk and harassment consultation correspondence.
In addition to the above work contents, we are working to build systems and create workplaces that are easy for employees to work in.

Technology Development Group  ▶
Technology Development Group

The Technology Development Group is divided into three groups: the New Launch Group, the Equipment Improvement Group, and the Machining Improvement Group. Under the theme of strengthening high-quality manufacturing capabilities, we set policies for each group and person in charge, pursue added value as a fbn, develop new technologies, shorten the lead time of the process, etc., and engage in activities to shift to the upstream side of manufacturing.
In addition, we conduct improvement activities in response to the occurrence of defects at the site, and provide education and technical guidance to workers at the site.